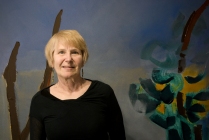 About The Artist's Work
Laura Westby lives and works out of her art studio just a few miles outside of Manhattan.
An artist her entire life, she's exhibited numerous times in the city. As part of the New York art community and gallery scene, she works with galleries and many known artists who rely on her ingenuity, skills and her wonderful, authentic personality.
These genuine qualities shine innately from within her mostly
abstract paintings. Her decisive yet delicate color pallette and direct compositions evoke those peripheral American places that are somehow everywhere and nowhere but reassuringly familiar. The ordinary places that peacefully stir with an atmosphere that might remind us we're homeward bound. Her paint application possesses physical grace and a poetic gentleness.
The indomitable Laura also trains for and powers through, running the NYC marathon every year. A dynamic spirit and artist.